Effects of nutritional supplement E-Sel on the Egg production, Fertility, and Hatchability of Indian peafowl
Keywords:
Egg productions, fertility, general behavior, hatchability, Indian peafowl, Supplementations
Abstract
Indian Peafowl is distributed in India, Pakistan, and Sri Lanka and its population is declining for a few decades due to fragmentation, habitat loss, poaching, contaminated feed, etc. Deficiency in dietary requirements such as vitamins and minerals are key issues in poultry nutrition which ultimately results in poor egg production, fertility, and hatchability. The present research work was designed to see the effects of E-Sel a supplement on egg production and general behavior (calling, feeding, and standing time) of the Indian peafowl. The study was conducted in the wildlife Park Rahim Yar Khan (Punjab) from Nov-2020 to May 2021 on Indian peafowl that was kept in captivity. Birds were categorized into two groups i.e., control and experimental. Each group was further composed of 3 males and 9 females in 1:3 ratios. Body weights of birds and trail size in males were also recorded at the start and end of the study period. It was observed that the supplementations have very significant effects (P<0.05) on egg production and maximum egg fertility and hatchability of 91% was noticed in the experimental group as compared to the control. The behavior of the two groups was also monitored during this period and no changes were seen in the feeding time of males of both groups while females of the experimental groups spent more time feeding as compared to the control group. However, in standing activity time no differences were noticed in both groups and in calling activity experimental group showed obvious differences from the control. A significant difference in body weight and male tail or train size was also recorded. It was concluded supplements have good impacts on body weight and male tail size, egg production, fertility, and hatchability.
References
Adebiyi, O.A., Aliu, O.T., Majekodunmi, B.C., & Adeniji, O.A. (2014). Effect of vitamin E and selenium on fertility, hatchability, and survivability of turkey. Journal of Animal Science and Advance, 4(7), 955-961.
Ahmadi, M., & Naderi, M. (2020). Breeding biology of Slender-billed Gull (Larus genei Breme 1839) in West Azerbaijan province, Iran. Scientific Reports in Life Sciences, 1(1), 72-79.
Ali, S., Ripley, S.D., & Dick, J.H. (1987). Compact handbook of the birds of India and Pakistan.
Ali, U., Khan, S., Rafiullah, N.C., Shah, Z.A., Akhtar, A., & Tanweer, A.J. (2013). Effect of male to female ratio and vitamin-E Selenium on fertility, hatchability and hatched chick weight of quail breeders. Sarhad Journal of Agriculture, 29(3).
Al-Obaidi, F.A., & Al-Shadeedi, S.M (2020). Effect of age and seasons on egg production and egg morphology of peafowl reared outdoor in Baghdad. Biochemistry Cell. Archives. 20(1), 791-795.
Anitha, S., Lalitha, K., & Chandrasekaran, V. (2021). Peacock Repellant Technique for Crop Protection in the Agricultural Land. In Machine Intelligence and Smart Systems. Springer, Singapore. 691-697.
Choct, M., & Naylor, A. J. (2004). The effect of dietary selenium source and vitamin E levels on performance of male broilers. Asian-Australasian Journal of Animal Sciences, 17(7), 1000-1006.
Dakin, R., & Montgomerie, R. (2009). Peacocks orient their courtship displays towards the sun. Behavioral Ecology and Sociobiology, 63(6), 825-834.
Deeming, D.C., & Wadland, D. (2002). Influence of mating sex ratio in commercial pheasant flocks on bird health and the production, fertility, and hatchability of eggs. British Poultry Science, 43(1): 16-23.
Fukuhara, R., Agarie, J., Furugen, M., & Seki, H. (2022). Nesting habitats of free-ranging Indian peafowl, Pavo cristatus, revealed by sniffer dogs in Okinawa, Japan. Applied Animal Behaviour Science, 105605.
Girard, M.B., & Endler, J.A. (2014). Peacock spiders. Current Biology, 24(13), R588-R590.
Gofur, M. R. (2020). Textbook of Avian Anatomy.
Hossain, S.M., Barreto, S.L., Bertechini, A.G., Rios, A.M., & Silva, C.G. (1998). Influence of dietary Vitamin E level on egg production of broiler breeders, and on the growth and immune response of progeny in comparison with the progeny from eggs injected with Vitamin E. Animal Feed Science and Technology, 73(3-4), 307-317.
Johansingh, A.J.T., & Murali, S. (1980). The ecology and behaviour of the Indian peafowl (Pavo cristatus) Linn. Of Injar. J. BNHS, 75: 1069-1079.
Kabir, A. & Hawkeswood, T.J. (2021). Captive breeding and rehabilitation of Peafowls (Aves: Phasianidae) in Bangladesh. Calodema, 890: 1-4.
Kaur, S., & Kler, T.K. (2017). Studies on different behavioral activities of Indian peafowl (Pavo Cristatus) in agricultural areas of Punjab.
Khan, S. A., Didier, A., & Khan, M.A. (2020). Avifauna on the Ceramics of Ketch-Makran, Balochistan, Pakistan. Pakistan heritage.
McGowan, P.J.K., Duckworth, J. W., Xianji, W., Van Balen, B., Xiaojun, Y., Khan, K. M., ... & Kaul, R. (1998). A review of the status of the Green Peafowl Pavo muticus and recommendations for future action. Bird Conservation International, 8(4), 331-348.
Mohiti-Asli, M., Shariatmadari, F., Lotfollahian, H., & Mazuji, M.T. (2008). Effects of supplementing layer hen diets with selenium and vitamin E on egg quality, lipid oxidation and fatty acid composition during storage. Canadian Journal of Animal Science, 88(3): 475-483.
Mushtaq-ul-Hassan, M., Ali, Z., Arshad, M. I., Mahmood, S., & Mahmood-ul-Hassan, M. (2012). Effects of mating sex ratios in Indian peafowl (Pavo cristatus) on production performance at Wildlife Research Institute, Faisalabad (Pakistan). Iranian Journal of Veterinary Research, 13(2), 143-146.
Najar, N.A. (2018). Geographic Variation in Rock Wren (Salpinctes Obsoletus) Song Complexity. University of Northern Colorado.
Naseer, J., Anjum, K. M., Khan, W.A., Imran, M., Yaqub, A., Munir, M.A., & Nazeer, A. (2018). Observations on the reproductive behavior of Indian peafowl (Pavo cristatus linn.) Under captivity. Journal of Animal and Plant Sciences, 28(2), 515-519.
Petrie, M., & Williams, A. (1993). Peahens lay more eggs for peacocks with larger trains. Proceedings of the Royal Society of London. Series B: Biological Sciences, 251(1331), 127-131.
Praveen, J., Jayapal, R., & Pittie, A. (2019). Updates to the checklists of birds of India, and the South Asian region—2019. Indian Birds, 15(1), 1-9.
Rajashekara, S., Ananda, N., Amulya, S., Bhagyashree, M., Khanam, N., Prathibha, Y., ... & Venkatesha, M. G. (2019). Conservation Status of the Indian Peafowl Pavo cristatus (Aves: Galliformes: Phasianidae) in Bangalore University Campus, Bengaluru, Karnataka, India. Indian Forester, 145(10), 992-997.
Sahin, K., & Kucuk, O. (2001). Effects of vitamin E and selenium on performance, digestibility of nutrients, and carcass characteristics of Japanese quails reared under heat stress (34 C). Journal of Animal Physiology and Animal Nutrition, 85(11‐12), 342-348.
Samour, J., Naldo, J., Rahman, H., & Sakkir, M. (2010). Hematologic and plasma biochemical reference values in Indian peafowl (Pavo cristatus). Journal of Avian Medicine and Surgery, 24(2): 99-106.
Scheideler, S.E., Weber, P., & Monsalve, D. (2010). Supplemental vitamin E and selenium effects on egg production, egg quality, and egg deposition of α-tocopherol and selenium. Journal of Applied Poultry Research, 19(4): 354-360.
Stokes, A.W., & Williams, H.W. (1971). Courtship feeding in gallinaceous birds. The Auk, 88(3), 543-559.
Susmita T, Anil Kumar C, Naveen Swaroop M, Nagaraja Kumari K and Bhaskar Ganguly (2020). Effect of Vitamin E and Selenium feed supplements on production performance and egg quality in WL layers. The Pharma Innovation Journal, 9(12), 90-93.
Urso, U.R.A., Dahlke, F., Maiorka, A., Bueno, I.J.M., Schneider, A.F., Surek, D., & Rocha, C. (2015). Vitamin E and selenium in broiler breeder diets: Effect on live performance, hatching process, and chick quality. Poultry science, 94(5), 976-983.
Yenilmez, F. (2020). Peafowl Production. Turkish Journal of Agriculture-Food Science and Technology, 8(4), 945-948.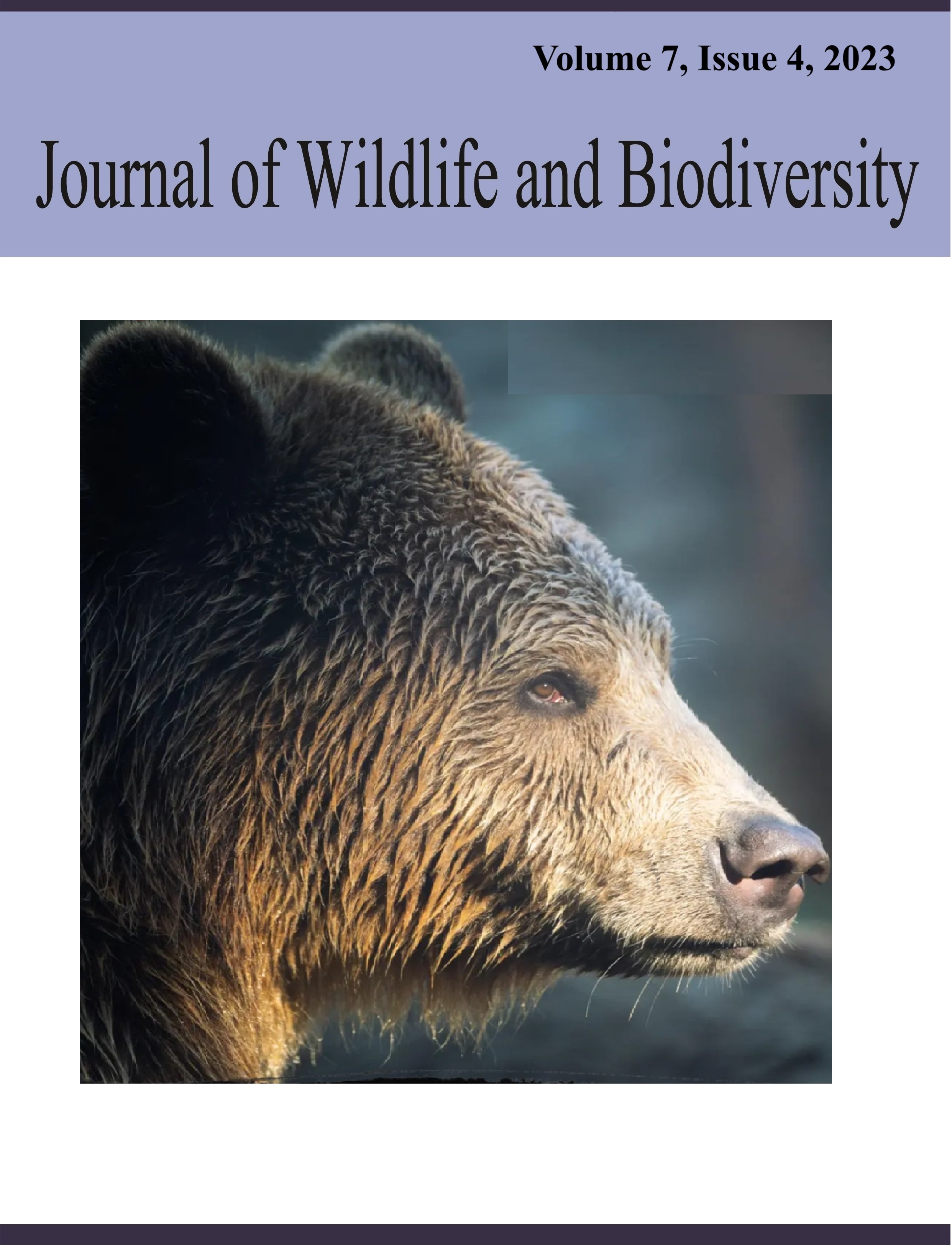 Downloads
How to Cite
ur Rehman, A. ., Rafi, U. ., Yasmeen, R. ., & Fayyaz, M. . (2022). Effects of nutritional supplement E-Sel on the Egg production, Fertility, and Hatchability of Indian peafowl. Journal of Wildlife and Biodiversity, 7(4), 90–100. https://doi.org/10.5281/zenodo.7043125
Section
Short communication
License
Copyright (c) 2022 Journal of Wildlife and Biodiversity
This work is licensed under a Creative Commons Attribution 4.0 International License.