Eremias intermedia or Eremias nigrocellata? Is morphology sufficient?
Keywords:
Iran Lizards fauna, Lacertidae, Taxonomy, Morphology
Abstract
Markazi Province with its extended deserts and Anderson reported Eremias intermedia Strauch 1876, from Iran-Afghanistan border and Eremias nigrocellata Nikolsky 1896 from north and east of Iran. He also represented some features for the recognition of these similar species. This study that lasted about one year was aimed at identifying herpetofauna of Kharturan protected area. 15 specimens of Eremias have obtained their measurements in agreement with the characters of neither Eremias intermedia nor Eremias nigrocellata that was described by Anderson from Iran.
References
Anderson S.C. 1979. A preliminary key to the turtles, Lizard and Amphisbaenas of IRAN Fieldiana Zoology 65(4): 27-44.
Anderson S.C. 1999. The lizards of Iran, Vol. 15. Contributions to Herpetology. Ithaca, NY: Society for the Study of Amphibians and Reptiles.
Boulenger G.A. 1885. Catalogue of the Lizard in the British Museum. Vol.1, 2.
Guibé J. 1954. Catalogue des types des lézards du Museum national d'Histoire naturelle. Bayeux: Colas.
Leviton A.E., Anderson SC, Adler K. and Minton S.A. 1992. Handbook to Middle East
amphibian and reptiles. Contribution to Herpetology. Oxford, OH: Society for study of Amphibians and Reptiles.
Minton Sh.A. 1966. A contribution to the herpetology of West Pakistan. Bulletin of the American Museum of Natural History, 134(2): 29-184.
Mozaffari O., Ahmadzadeh F. and Parham J. (2011). Eremias papenfussi sp. Nov., a new lacertid lizard (Sauria: Lacertidae) from Tehran, Iran. Zootaxa 31(14): 57-62.
Rastegar-Pouyani E., Rastegar-Pouyani N., Kazemi Noureini, Joger S., Wink U.M. 2010. Molecular phylogeny and evolution of the Eremias persica complex of the Iranian Plateau (Reptilia: Lacertidea) based on sequences of the mtDNA, Zoological Journal of the Linean Society 158: 641-660.
Rastegar-Pouyani N.R., Kami H.G., Rajabzadeh, Shafeie M., Anderson S.C. 2008. Annotated Checklist of Amphibians and Reptiles of Iran. Iranian Journal of Animal Biosystematics 4 (1): 7-30.
Terentjev P.V. and Chernov S.A. 1949. Guide to Reptile and Amphibians, SovietScience Prees, Moscow and Leningrad, 340 pp.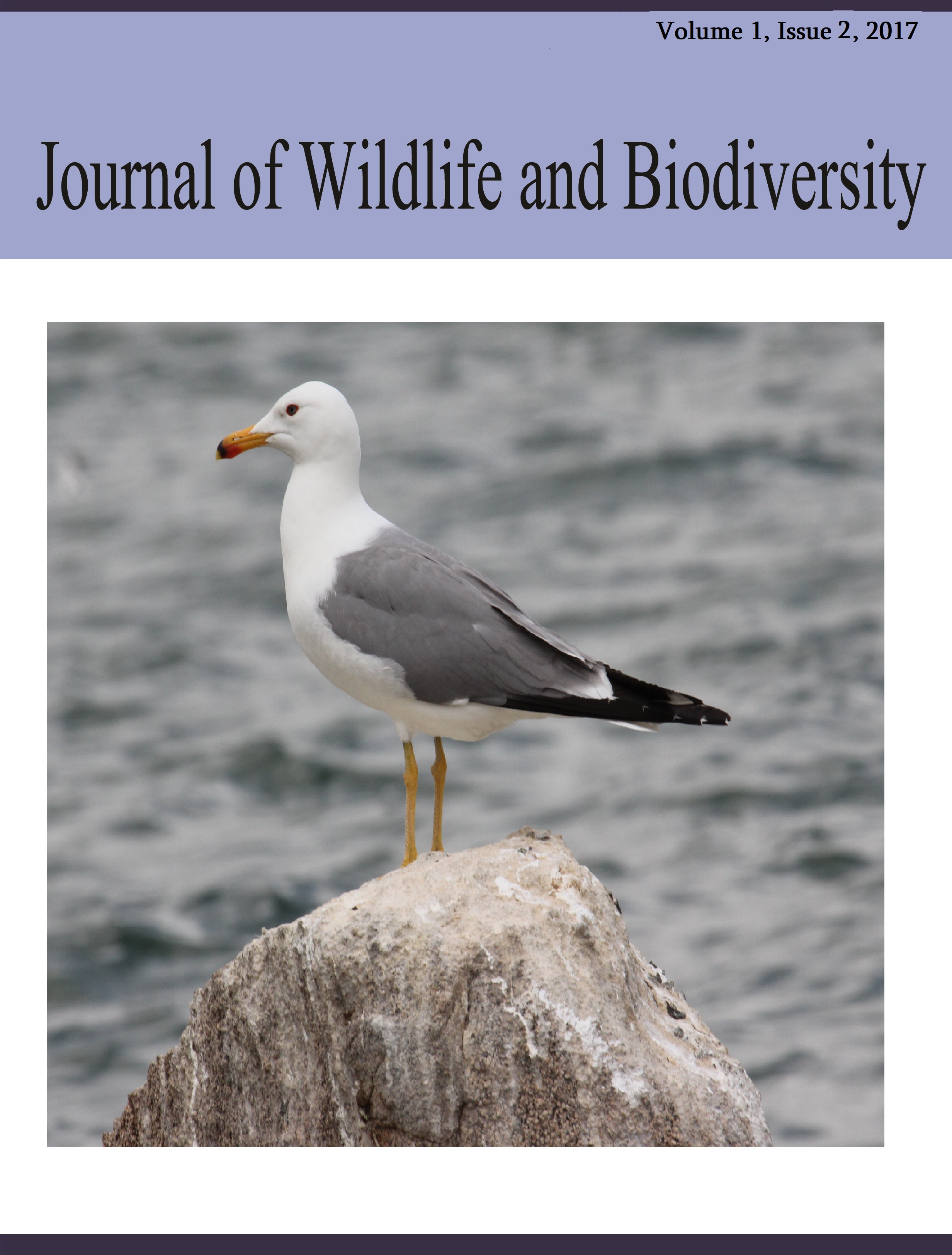 Downloads
How to Cite
Molavi, F. ., Kalat, T. M. ., Yazdanpanah, M. ., Kiabi, B. H. ., & Kami, H. G. . (2017). Eremias intermedia or Eremias nigrocellata? Is morphology sufficient? . Journal of Wildlife and Biodiversity, 1(2), 56–59. https://doi.org/10.22120/jwb.2017.28006
Section
Short communication
License
Copyright (c) 2022 Journal of Wildlife and Biodiversity
This work is licensed under a Creative Commons Attribution 4.0 International License.