Complete Mitochondrial Genome of Red Junglefowl (Gallus gallus spadiceus) From Peninsular Malaysia
Keywords:
Mitogenome, next-generation sequencing, Gallus gallus spadiceus, red junglefowl
Abstract
Complete mitochondrial genome sequences have significant relevance in the study of phylogenetic relationships, evolution, and population genetics. In this paper, we present the complete mitochondrial genome of the red junglefowl (Gallus gallus spadiceus) from Peninsular Malaysia, inferred using next-generation sequencing (NGS). The mitogenome is 16,785 bp in length with the structural organization of an avian mitochondrial arrangement compromising 13 protein-coding regions, 22 tRNAs, 2 rRNAs, and 1 control region. No internal stop codon was found in the protein-coding genes. Overall base composition is A: 30.3%, C: 32.5%, G: 13.5%, and T: 23.7%, indicating a high A + T content of 54.0%. Phylogenetic tree analysis revealed that red junglefowl from Peninsular Malaysia is grouped together with other members of Gallus gallus specifically from Southeast Asia, with 89% bootstrap value support. These research findings might be beneficial for red junglefowl genetic identification, molecular systematic studies, and conservation management interest in the future.
References
Abdul-Latiff, M.A., & Md-Zain, B.M. (2021). Taxonomy, evolutionary and dispersal events of pig-tailed macaque, Macaca nemestrina (Linnaeus, 1766) in Southeast Asia with description of a new subspecies, Macaca nemestrina perakensis in Malaysia. Zoological Studies, 60, 50.
Aifat, N., Yaakop, S., & Md-Zain, B.M. (2016). Optimization of partial Cyt b gene sequence from selected ancient Presbytis museum skin specimens. Malaysian Applied Biology, 45, 93–96.
Andrews, S. (2010). FastQC: A quality control tool for high throughput sequence data. http://www.bioinformatics.babraham.ac.uk/projects/fastqc.
Bernt, M., Donath, A., Jühling, F., Externbrink, F., Florentz, C., Fritzsch, G., Pütz, J., Middendorf, M., & Stadler, P.F. (2013). MITOS: improved de novo metazoan mitochondrial genome annotation. Molecular Phylogenetics and Evolution, 69, 313–319.
BirdLife International. (2016). Gallus gallus. The IUCN Red List of Threatened Species2016:e.T22679199A92806965.https://dx.doi.org/10.2305/IUCN.UK.2016-3.RLTS.T22679199A92806965.en.
Bushnell, B. (2021). BBMap; https://sourceforge.net/projects/bbmap.
Chowdhury, S.M., Omar, A.R., Aini, I., Hair-Bejo, M., Jamaluddin, A.A., Md-Zain, B.M., & Kono, Y. (2003). Pathogenicity, sequence and phylogenetic analysis of Malaysian Chicken anaemia virus obtained after low and high passages in MSB-1 cells. Archives of Virology, 148 (12), 2437–2448. https://doi.org/10.1007/s00705-003-0189-3
Dierckxsens, N., Mardulyn, P., & Smits, G. (2017). NOVOPlasty: de novo assembly of organelle genomes from whole genome data. Nucleic Acids Research, 45(4), e18.
Fumihito, A., Miyake, T., Shin-Ichiro, S., Takada, M., Ohno, S., & Kondo, N. (1994). One subspecies of the Red Junglefowl (Gallus gallus gallus) suffices as the matriarchic ancestor of all domestic breeds. Proc Natl Acad Sci USA, 91, 12505–12509.
Halim, M., Aman-Zuki, A., Syed-Ahmad, S.Z., Mohammad-Din, A.M., Abdul-Rahim, A., Mohd-Masri, M.M., Md-Zain B.M., & Yaakop, S. (2018). Exploring the abundance and DNA barcode information of eight parasitoid wasps species (Hymenoptera), the natural enemies of the important pest of oil palm, bagworm, Metisa plana (Lepidoptera: Psychidae) toward the biocontrol approach and it's application in Malaysia. Journal of Asia-Pacific Entomology, 21(4), 1359–1365. https://doi.org/10.1016/j.aspen.2018.10.012
Kearse, M., Moir, R., Wilson, A., Stones-Havas, S., Cheung, M., Sturrock, S., Buxton, S., Cooper, A., Markowitz, S., Duran, C., Thierer, T., Ashton, B., Meintjes, P., & Drummond, A. (2012). Geneious Basic: an integrated and extendable desktop software platform for the organization and analysis of sequence data. Bioinformatics, 28(12), 1647–1649.
Kumar, S., Stecher, G., & Tamura, K. (2016). MEGA 7: Molecular evolutionary genetic analysis version 7.0 for bigger datasets. Molecular Biology and Evolution, 33(7): 1870–1874.
Langmead, B., & Salzberg, S. (2012). Fast gapped-read alignment with Bowtie 2. Nature Methods, 9, 357–359.
Md-Zain, B.M., Abid-Kamal, S.N.A., Aifat, N.R., ABAbdul-Latiff, M.A.B., Mohd-Hashim, A., Ampeng, A., Yaakop, S., & Samat, A. (2018). Molecular identification of shark fins in Malaysian Borneo's local markets. Biodiversitas, 19(3), 1035–1043. https://doi.org/10.13057/biodiv/d190336
Rosli, N., Sitam, F.T., Rovie-Ryan, J.J., Gan, H.M., Lee, Y.P., Ithnin, H., Gani, M., Abdul Razak, M.F.A., Md-Zain, B.M., & Abdullah, M.T. (2019). The complete mitochondrial genome of Malayan Gaur (Bos gaurus hubbacki) from Peninsular Malaysia. Mitochondrial DNA B Resources, 4(2), 2534–2535.
Sathyakumar, S., Fernandes, M., Mukesh T., Kaul R., & Kalsi, R. (2012). Conservation of Red Junglefowl Gallus gallus in India. Final Project Report. Wildlife Institute of India, Dehradun.
Subhani, A., Awan, M.S., Anwar, M., Ali, U., & Dar, N. (2010). Population status and distribution pattern of Red Jungle Fowl (Gallus gallus murghi) in Deva Vatala National Park, Azad Jammu & Kashmir, Pakistan: A pioneer study. Pakistan Journal of Zoology, 42, 701–706.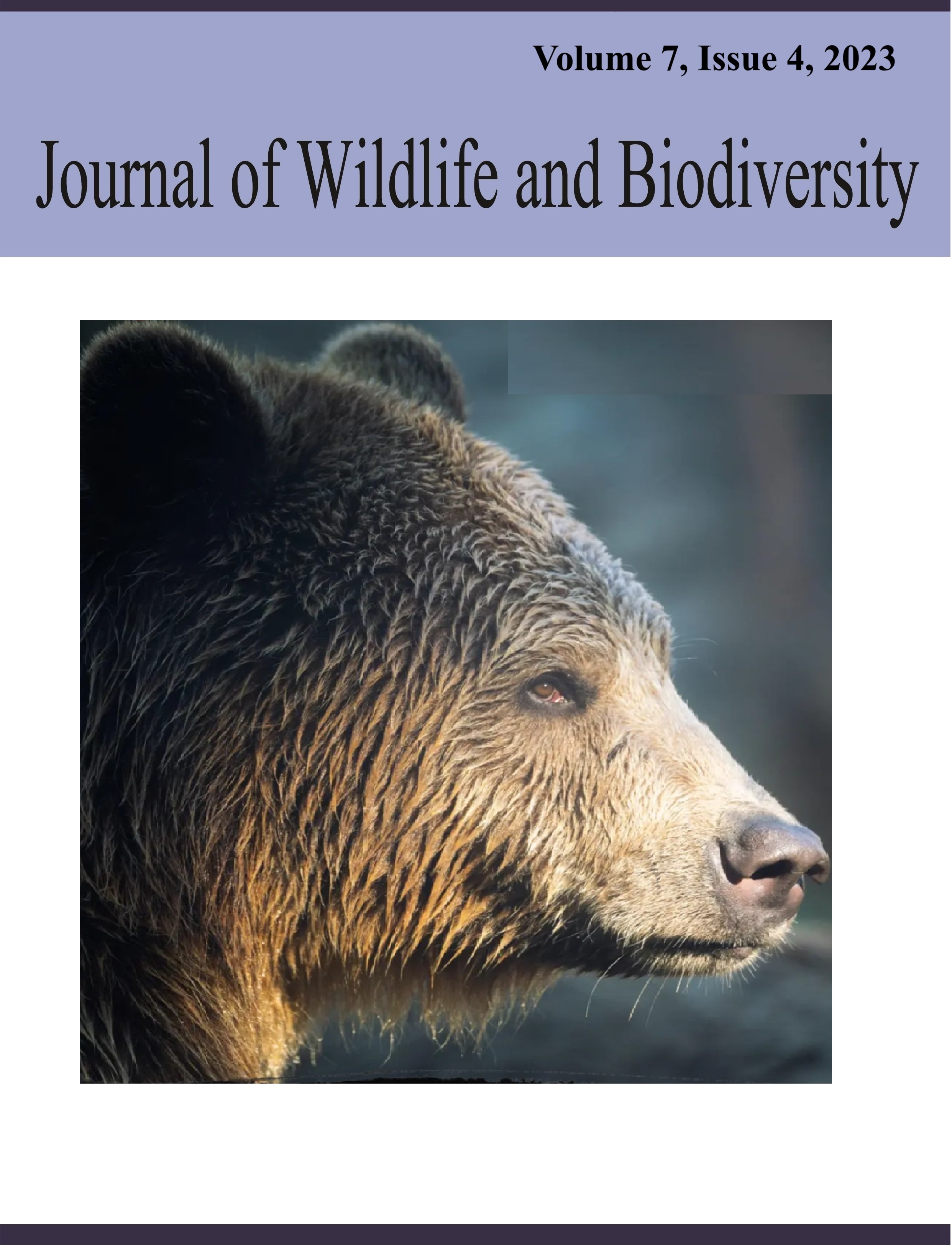 Downloads
How to Cite
Mazlan, M. N. A. ., Mohd-Kulaimi, N. A. ., Sitam, F. T., Rosli, N. ., MD-ZAIN, B. M., Ayub, Q. ., & Yong, L. S. . (2023). Complete Mitochondrial Genome of Red Junglefowl (Gallus gallus spadiceus) From Peninsular Malaysia. Journal of Wildlife and Biodiversity, 7(4), 83–89. https://doi.org/10.5281/zenodo.7671630
Section
Short communication
License
Copyright (c) 2022 Journal of Wildlife and Biodiversity
This work is licensed under a Creative Commons Attribution 4.0 International License.