A review of the biodiversity conservation status of Nigeria
Keywords:
Biodiversity, conservation, IUCN, Nigeria, red List
Abstract
Despite a plethora of policies that address issues of conservation of nature's resources, biodiversity continues to face a series of threats in Nigeria. The study aimed at a critical appraisal of the status of biodiversity conservation and utilization pattern in Nigeria. The review was carried out using published materials and personal interactions with knowledgeable individuals. Poverty, population growth, invasive alien species, habitat fragmentation were identified as core factors depleting biodiversity in Nigeria. Although no reliable record yet exists for assessing the rate of biodiversity loss in Nigeria, substantial evidence shows that biodiversity is being lost at a disturbing rate. The IUCN Red list assessment reports that 141 native animal and 168 native plant species of Nigeria are currently classified in different threat categories. With these assessments been carried out on the global level, we hypothesized that such global assessment might be biased based on the various identified peculiar threats faced by different species in their local environment.  To properly monitor and reduce the current state of biodiversity, reliable data on biodiversity is necessary. The development of a red List for Nigerian flora and fauna is recommended.
References
Adewumi A. A., Edward J. B., Agunbiade R. O., Oyeniran B.H. 2018. The Nigerian Wildlife Management Policy, Institutional and Legal Framework. Journal of Scientific and Engineering Research 5(8): 6-13.
Agarwal M. 2016. Conserving water and biodiversity: traditions of sacred groves in India. European Journal of Sustainable Development 5(4) 129-140.
Aguilera J. 2019. The numbers are just horrendous. Almost 30,000 species face extinction because of human activity. TIME. Available at: https://time.com/5629548/almost-30000species-face-extinction-new-report/.[Accessed: September 15, 2019].
Aigbokhan E. I. 2016. Tree conservation in Nigeria. A paper presented at the workshop-Tree conservation: Prioritizing and protecting Nigeria's most threatened trees, Ibadan, Nigeria.
Ajayi S. S. 2019. Principles for the management of protected areas in wildlife conservation in Africa: A scientific approach. Academic Press, 250p.
Akande O. A., Ahmad Y. A., Yusuf H. O., Akinade T. G. 2019. Assessment of Wildlife Conservation Awareness and practices in some selected secondary school around Kainji Lake National Park, Nigeria. World Scientific News 115:91-103.
Anadu P. A. 1987. Progress in the conservation of Nigeria's Wildlife Biological Conservation. Biological Conservation 41(4):237-251.
Borokini T. I., 2014. A systematic compilation of endemic flora in Nigeria for conservation management. Journal of Threatened Taxa 6(11): 6406–6426.
Castineiras L., Fundora M. Z., Pico S., Salinas E. 2000. The use of home gardens as a component of the national strategy for the In situ conservation of plant genetic resources in Cuba. Plant Genetic Resources Newsletter 123: 9-18.
Dania-Ogbe F. M., Egharevba R. K. A., Bamidele J. F. 1992. Field survey of indigenous and useful plants, their preparation for food and home gardens in Edo and Delta States. The United Nations University, 95p.
Darbyshire I., Vollesen K., Chapman H. M. 2009. A remarkable range disjunction recorded in Metarungia pubinervia (Acanthaceae). Kew Bulletin. 63 (4): 613–615.doi:10.1007/s12225-008-9073-3.
Ejidike B. N., Ajayi S. R. 2013. Trends in wildlife conservation practices in Nigeria. International Journal of Biodiversity and Conservation 5(4): 185-191.
Federal Government of Nigeria. 2015. Nigeria Fifth Biodiversity Report. Federal Ministry of Environment, Abuja. 89p.
Gallai, N., Sales J. 2009. Economic valuation of the vulnerability of world agriculture confronted with pollinator decline. Ecological Economics68: 810-821.
Imarhiagbe O., Osazee J. O., Aiwansoba R. O., Shittu O. H. 2016. In vitro germplam collection and storage: A review. International Journal of Biology Research 1(1):10 - 15.
Jianguo L., Daily G. C., Ehrlich P .R., Luck G. W. 2003. Effects of household dynamics on resource consumption and biodiversity. Nature: 421
Martin C. 1991. The Rainforests of West Africa: Ecology-Threats-Conservation. Springer Basel AG. 235p.
National Biodiversity Strategies and Action Plans (NBSAPs) 2015. Convention of Biological Diversity. Federal Ministry of Environment, Abuja. 157p.
Okorodudu F. M. T. 1998. Law of Environmental Protection: Materials and Text, Ibadan, Nigeria: Caltop Publication Ltd, 333p.
Okorodudu F. M. T. 1998. Law of Environmental Protection: Materials and Text, Ibadan, Nigeria: Caltop Publication Ltd, 333p.
Osawaru M. E., Ogwu M. C., Imarhiagbe O. 2015. Principal Component Analysis as a tool for analyzing On-farm Experimental Data. Biological and Environmental Sciences Journal for the Tropics 12(2): 148 - 158.
Osawaru M. E., Dania-Ogbe F. M. 2012. Crop diversity and utilization pattern in home garden from Southern Edo State, Nigeria. African Scientist Volume 13(1): 23-39.
Sawe B. E. 2019. The National Parks of Nigeria: Role in Protecting the Country's Biodiversity, WorldAtlas, Available at https://www.worldatlas.com/articles/the-national-parks-of-nigeria-role-in-protecting-the-country-s-biodiversity.html/. [Accessed August 20, 2019].
Terborgh J. 2002.Making parks work: strategies for preserving tropical nature. Island Press. 65p.
United Nations (UN). 2019. World population prospects. Department of Economic and Social Affairs, Population Division, UN, 46p.
USAID (2008) Nigeria biodiversity and tropical forestry assessment-Maximising agricultural revenue in key enterprises for target sites (MARKETS). Chemonics International Inc. 98p
Williams L. 2008. Okomu National Park. Nigeria: the Bradt travel guide. Bradt Travel Guides. 191p.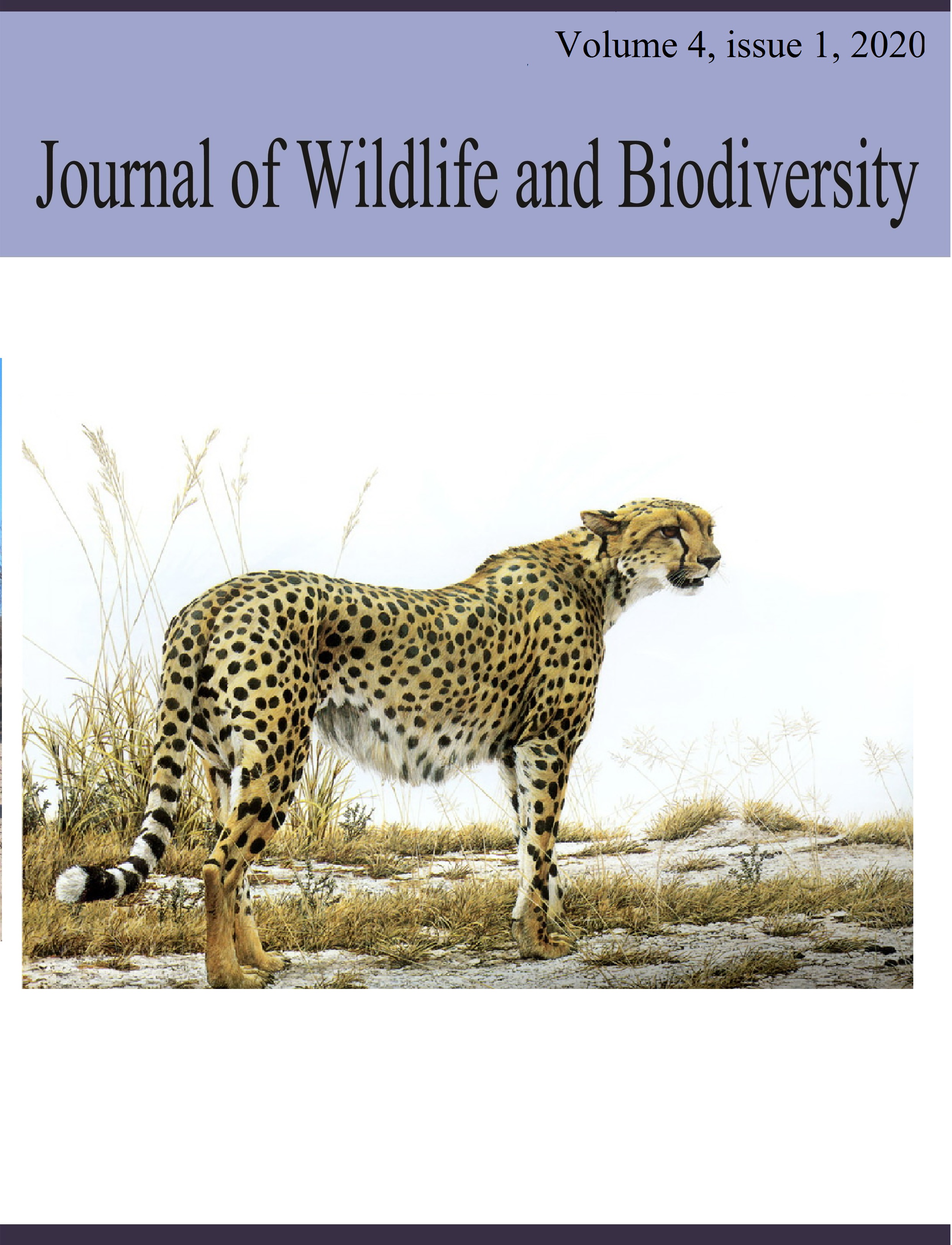 Downloads
How to Cite
Imarhiagbe, O., Egboduku, W. O., & Nwankwo, B. J. (2020). A review of the biodiversity conservation status of Nigeria. Journal of Wildlife and Biodiversity, 4(1), 73–83. https://doi.org/10.22120/jwb.2019.115501.1096
Section
Short communication
License
This work is licensed under a Creative Commons Attribution 4.0 International License.