Analysis of human-driven extinction of elephants in Nyungwe national park, Rwanda
Keywords:
Analysis, Re-introduction,, Extinction, Causes, Nyungwe national Park
Abstract
 Nyungwe National Park (NNP) is one of Rwanda's largest remaining tropical forests. Due to the increasing threats from human activities, the park's biodiversity has been severely affected. In 1999, elephants were removed from the park due to these threats. This study, therefore, intends to analyze the human-driven extinction of elephants in Nyungwe National Park, Rwanda from 1965 to 1999. The results revealed that the human activities that lead to the extinction of elephants in Nyungwe include: Poaching for ivory trade at 75%, poaching for bushmeat at 20,6%, poaching for traditional medicine at 2,7% and poaching for decoration at the late 0,8%. The illegal human-driven activities that led to elephant extinction were Poaching, Gold Mining and Logging/tree harvesting. These activities were promoted by Poaching for Ivory Trading, Poaching for Bushmeat, Poverty and Human-elephants conflicts. All of these degraded elephant habitats in various locations such as Kamiranzovu, Gasare, Bigugu and eventually resulted in the extinction of elephants in NNP. Conservation efforts that exist today in Nyungwe National Park need to be reinforced mainly for threatened species so that they may not become extinct from Nyungwe as well and reintroduction of elephants in Nyungwe is needed for sustainable conservation of Nyungwe's biodiversity and tourism product development.   In addition to this, an assessment of habitat quality in areas formerly occupied by elephants in Nyungwe is also needed as a prerequisite for elephant re-introduction planning and implementation.
References
Dowsett, R. J. (1990). Enquete Faunistique et Floristique dans la Forêt de Nyungwe, Rwanda. Tauraco Research Report, No. 3.
Francisco, M., (2014). Protected Areas in Tropical Africa: Assessing Threats and Conservation Activities.
IUCN, (2008). IUCN Red List Threatened Species ˂www.iucnredlist.org˃ Accessed in November 2008
Julian Easton, (2009), Feasibility report for the re-introduction of African elephants to Nyungwe
Kaiwen, S.U., Jie R., Jie Yang, Yilei, H., Yali W. (2020). Human-Elephant Conflicts and Villagers' Attitudes and Knowledge in the Xishuangbanna Nature Reserve, China. International Journal of Environmental Research and Public Health, 17, 8910.
Matthew Mc Cartney et al (2015). Brief for GSDR 2015, Sustainable development and ecosystem services.
Nelleman C., Matthew McCartney (2012). The future survival of African elephant's implications for conservation.
Ngcobo, J.N., Nedambale, T.L., Nephawe, K.A., et al. 2018. The future survival of African elephants: implications for conservation. International Journal of Avian & Wildlife Biology, 3(5):379‒384. DOI: 10.15406/ijawb.2018.03.00123
ORTPN (2006). Nyungwe National Park General Management Plan Final Copy, 2006- 2010.
Plumptre, A. J., Masozera, Fashing, M., P.J., Mcneilage, A, Ewango, C., Kaplin, B.A., Liengorla, I. (2002). 'Biodiversity surveys of Nyungwe forest reserve in SW Rwanda' WCS working paper No. 19.
Plumptre, A., Ayebare, S., Kujirakwinja, D., Segan, D. (2021). Conservation planning for Africa's Albertine Rift: Conserving a biodiverse region in the face of multiple threats. Oryx, 55(2), 302-310. doi:10.1017/S0030605319000218
Richard, B. (2008). The conflict between elephants and humans in the Central African forests. Mammal Review. 26. 67 - 80. 10.1111/j.1365-2907.1996.tb00147.x.
Rushton, J., Viscarra, R., Viscarra, C., Basset, F., Baptista, R., Brown, D. (2005). Wildlife Policy Briefing How Important is Bushmeat Consumption in South America: Now and in the Future?.
UNEP, CITES, IUCN, TRAFFIC (2013). Elephants in the Dust – The African Elephant Crisis. A Rapid Response Assessment. United Nations Environment.
Wahab M.K.A, M., Komolafe , O., & Adewumi , A. (2021). Assessment of Human-Wildlife Conflicts in Idanre Forest Reserve, Ondo State, Nigeria. Scientific Reports in Life Sciences, 2(2), 20–29. https://doi.org/10.22034/srls.2021.244190
Weber, W. (1989). Conservation and development on Zaire-Nile divide. An analysis of value of conflicts and convergence in the management of Afromontane forests in Rwanda. Madison, Univerisity of Wisconsin.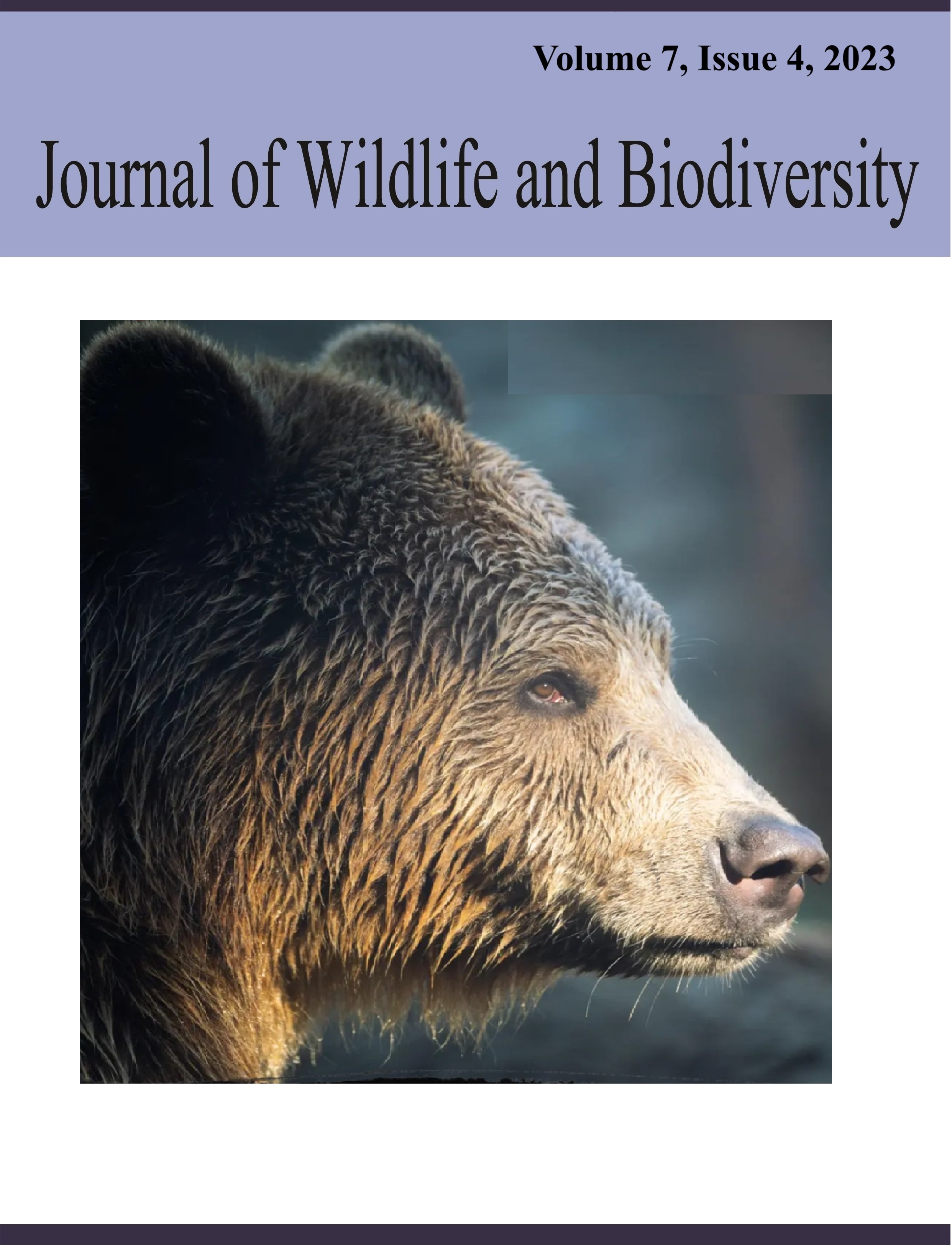 Downloads
How to Cite
Niyonsaba , D., & Ndokoye, P. (2023). Analysis of human-driven extinction of elephants in Nyungwe national park, Rwanda . Journal of Wildlife and Biodiversity, 7(4), 183–198. https://doi.org/10.5281/zenodo.7957408
License
Copyright (c) 2022 Journal of Wildlife and Biodiversity
This work is licensed under a Creative Commons Attribution 4.0 International License.