Mammalian activity in the vicinities of beaver dams in the fall-winter season
Keywords:
Castor fiber, shoreline, mammals, Biodiversity
Abstract
European beavers, being so-called "keystone species", transform their habitat according to their own needs while also creating favorable living conditions for other animals. The aim of the research was to find out how different species of mammals use beaver dams and the area directly adjacent to the watercourse, in the place where the dam was built, in the autumn and winter period. In the investigated areas the activity of 13 different mammal species was recorded, most often using the beaver dams as river crossing, either on or close to the dam itself. Between September-February the activity of mammals was evenly distributed over the period of each month with a slight increase in November. The study confirmed the great role of the European beaver in increasing the diversity of the local mammal species.
References
Bashinskiy, I.V. (2008). The Effect of Beaver (Castor fiber Linnaeus, 1758) Activity on Amphibian Reproduction. Inland Water Biology, 1, 4, 326–331. https://doi.org/10.1134/S1995082908040032
Brzuski P., Kulczyka A. 1999. Beaver – a symbol of return to nature. Polish Hunting Society, Warszawa.
Ciechanowski, M., Kubic, W., Rynkiewicz, A., & Zwolicki, A. (2011). Reintroduction of beavers Castor fiber may improve habitat quality for vespertilionid bats foraging in small river valleys. Europen Journal of Wildlife Research, 57, 737–747. https://doi.org/10.1007/s10344-010-0481-y
Collen, P., & Gibbon, R.J. (2001). The general ecology of beavers (Castor spp.), as related to their influence on stream ecosystem and riparian habitats, and the subsequent effects on fish – review. Reviews in Fish Biology and Fisheries, 10, 439-461.
Dalbeck, L., Luscher, B., & Ohlhoff, D. (2007). Beaver ponds as habitat of amphibian communities in a central European Highland. Amphibia-Reptalia, 28, 493-501. https://doi.org/10.1163/156853807782152561
Janiszewski, P. Hanzal, V., & Misiukiewicz, W. (2014). The European Beaver (Castor fiber) as a Keystone Species – a Literature Review. Baltic forestry, 20 (2), 277-286.
Janiszewski, P., & Misiukiewicz, W. (2012). Bóbr europejski Castor fiber. BTL Works, Warszawa. [in Polish].
Jonem, C.G., Lawton, J.H., & Shachak, M. (1994). Organisms as ecosystem engineers. Oikos, 69, 373-386.
Kile, N.B., Nakken, P.J., Rosell, F., & Espeland, S. (1996). Red Fox, Vulpes vulpes, kills a European Beaver, Castor fiber, kit. Canadian Field-Naturalist, 110(2), 338-339.
Misiukiewicz, W., Gruszczyńska, J., Grzegrzółka, B., & Januszewicz, M. (2016). Impact of the European beaver (Castor fiber L.) population on the woody vegetation of Wigry National Park. Roczniki Naukowe Polskiego Towarzystwa Zootechnicznego, 12 (3), 45-64.
Ozolins, J., & Rantis, M. (1992). Some preconditions for the present development of otter (Lutra lutra L.) number and distribution in Latvia. Materialien des 2. Internationalen Symposiums Semiaquatische Säugetiere, Martin-Luther-University Halle Wittenberg, 365-384.
Paine, R.T. (1995). A Conversation on Refining the Concept of Keystone Species. Conservation Biology, 9 (4), 962–964.
Pliūraitė, V., & Kesminas, V. (2012). Ecological impact of Eurasian beaver (Castor fiber) activity on macroinvertebrate communities in Lithuanian trout streams. Central European Journal of Biology, 7(1), 101-114. https://doi.org/10.2478/s11535-011-0084-y
Romanowski, J., Zając, T., & Orłowska, L. (2010). Wydra ambasador czystych wód. Fundacja Wspierania Inicjatyw Ekologicznych. Kraków, 49-50. [in Polish]
Rosell, F., & Hovde, B. (1998). Pine Marten, Martes martes, as a Eurasian Beaver, Castor fiber, lodge occupant and possible predator. Canadian Field-Naturalist, 112(3), 535-536.
Rosell, F., Bozser, O., Collen, P., & Parker, H. (2005). Ecological impact of beavers Castor fiber and Castor canadensis and their ability to modify ecosystems. Mammal Review, 35, 248-276. https://doi.org/10.1111/j.1365-2907.2005.00067.x
Sidorov, G.N, Kassal, B.J., Goncarova, O.V., Vachruszev, A.V., & Frolov, K.V. (2011). Teriofauna omskoj oblasti. Gryzuny. Rossijsjaka akademija selskochazjajstviennych nauk. Sibirskoje otdelenije. Omsk, 245-352
Sidorovich, V.E., Jedrzejewska, B., & Jedrzejewski, W. (1996). Winter distribution and abundance of Mustelids and Beavers in the river valleys of Bialowieza Primeval Forest. Acta Theriologica, 41, 155-170.
Żurowski, W., & Kammer J. (1988). Norka amerykańska (Mustella vison) w stanowiskach bobrów. Przegląd Zoologiczny, 4, 513 – 521.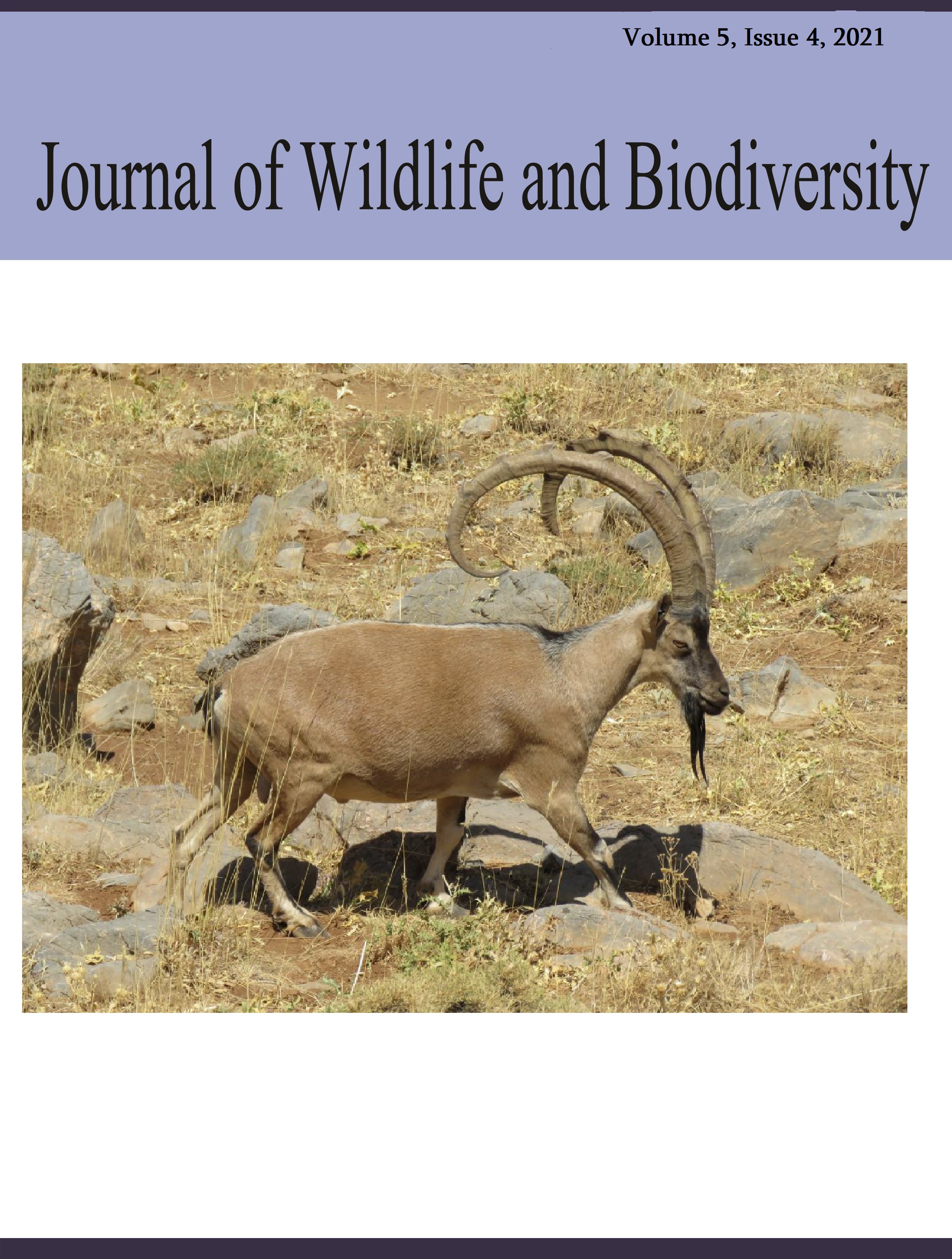 Downloads
How to Cite
Czajkowska, J. ., & Janiszewski , P. . (2021). Mammalian activity in the vicinities of beaver dams in the fall-winter season. Journal of Wildlife and Biodiversity, 5(4), 8–14. https://doi.org/10.22120/jwb.2021.139055.1194
License
Copyright (c) 2022 Journal of Wildlife and Biodiversity
This work is licensed under a Creative Commons Attribution 4.0 International License.