On the Road Again: Touring iNaturalist for roadkill observations as a new tool for ecologists
Keywords:
roadkill, vertebrate biology, scavenging ecology, iNaturalist, biodiversity, road mortality, conservation
Abstract
As human populations continue to increase and utilize highways, the potential negative impact of roadways on wildlife mortality (roadkill), is expected to increase accordingly. Documenting vertebrates killed on roadways can be time consumptive for local wildlife managers researching population trends of predominantly mammals and reptiles encountered. New citizen science observations taken on cell phones using the application iNaturalist provide a potentially powerful new tool to inform roadkill occurrence and its impact across taxonomic groups and geographic areas. To this end, I downloaded and surveyed data observations on iNaturalist for "road kill" and "dead on road" or "DOR", within the United States, resulting in 17,926 total observations following database quality control, spanning 1973 to February of 2022. Overall of the 710 distinct species identified as roadkill, reptiles were the most frequently reported (12,127 observations), with eight of the top ten reported observations of roadkill being snakes. Mammals represented 3,094 observations followed by birds and amphibians, with 1,363 and 1,342 observations, respectively. Interestingly, I noted some difference for season of roadkill observations with summer having the highest reports of roadkill for both reptiles and amphibians, with more reports of mammals as roadkill in fall. This study contributes to our body of knowledge on roadkill ecology and can provide wildlife diversity biologist with a new avenue using citizen science data as this smartphone application becomes increasingly utilized for research on biodiversity.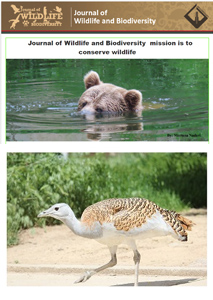 Downloads
How to Cite
Unger, S. (2022). On the Road Again: Touring iNaturalist for roadkill observations as a new tool for ecologists. Journal of Wildlife and Biodiversity, 6(X). https://doi.org/10.22120/jwb.2022.300322.1479
License
Copyright (c) 2022 Journal of Wildlife and Biodiversity
This work is licensed under a Creative Commons Attribution 4.0 International License.